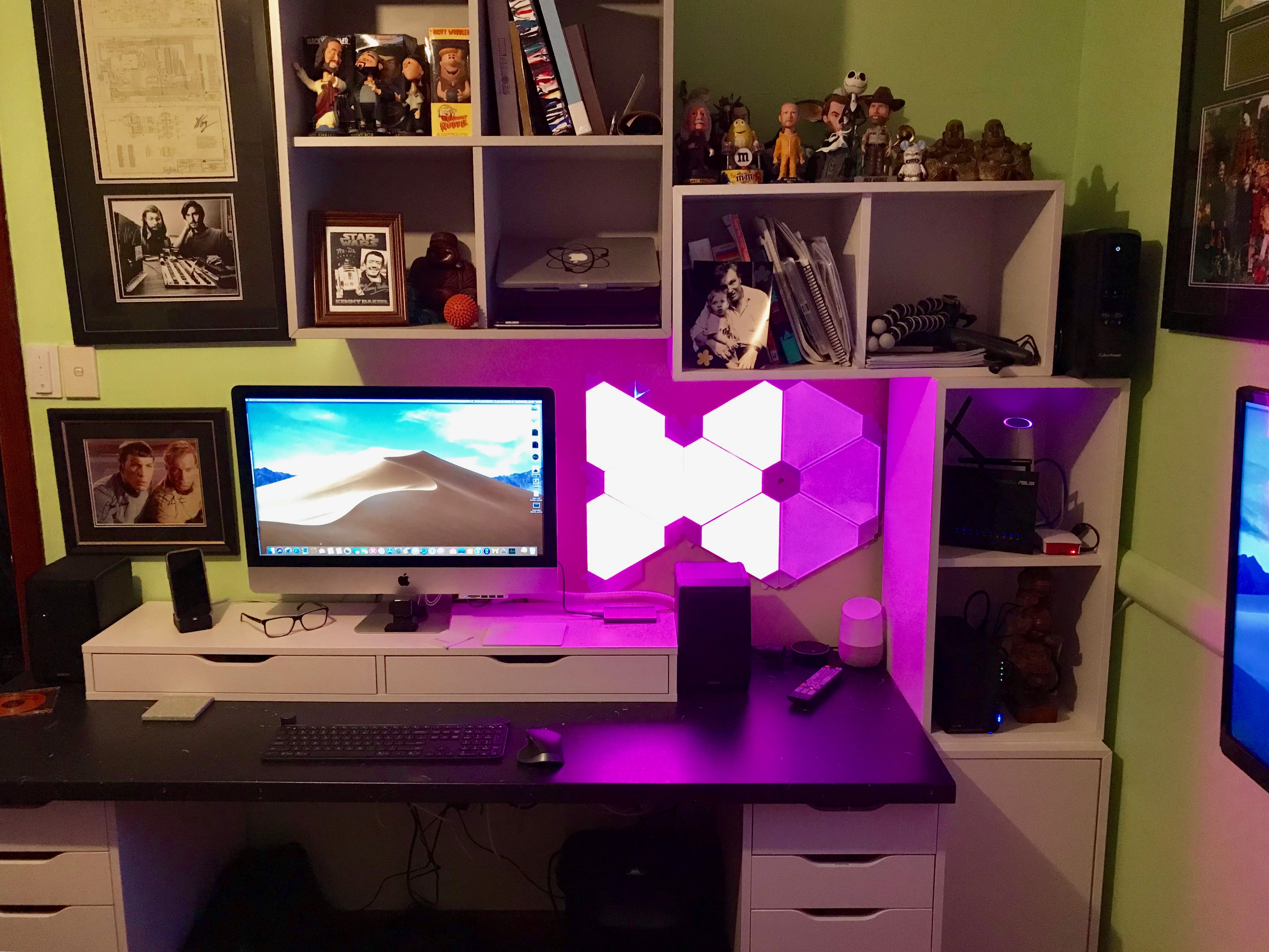 My setup revolves around my iMac 5K, which I supplement with a 13" MacBook Pro, iPad Pro 12.9", iPad Pro 10.5" and an iPhone X ( I know, I am an Apple tragic

)
Apart from general browsing, home finance etc I mainly use my setup to support my interest in Multimedia, Web Design, Automation and Genealogy.
My current input devices of choice are the Logi Craft Keyboard & Mx Master 2S Mouse and the AppleMagic Trackpad 2. For editing in Final Cut Pro X I recently bought a Contour ShuttleExpress controller but I have yet to really test it out to see if it adds much value to my editing process.
My network utilises an Asus RT-AC68U Modem/Router for connecting to my ISP. Not relevant for my Office but I also use a Netgear Orbi to deliver a strong wifi signal throughout my house and yards.
I work for a large Government Department building Data Models and Information Systems and often work from home. To access my employers system I log in via Citrix Reciever, the larger screen iMac being much more useful than the small monitors at work when coding Terradata SQL. The dial on the Logi Craft keyboard makes switching between my work and personal desktops simple and quick.
I use a Synology 218+ for backing up data, hosting websites and streaming media.
A CyberPower CP1500PFCLCD UPS protects my NAS, Router and iMac from the power fluctuations which I occasional get.
For Time Machine I use an external 2TB Seagate Slim hard drive. I could use the Synology but I have found in the past that it was not always reliable.
I run Homebridge on a Raspberry Pi 3 so I can add my non HomeKit Reolink Wifi Security Cameras into the Home app.
For input and output of documents I use a Fuji Xerox CP215W Wireless Colour Laser Printer and a Fujitsu Scansnap iX500, scanner which I also operate in wireless mode. I mainly use the scanner to convert documents to PDF for storing In Devonthink Pro.
In addition to my iMac 5K I also have on the wall to the right of my desk a Seiki 39" 4K TV which I use as an external monitor. It comes in handy to place Security Camera and other video for viewing when I am working in Full screen mode on the iMac.
To improve the sound of my system I recently added some Edifier R1010BT speakers. For their small size and low price they give an impressive performance. They are bluetooth enabled but I run them via the iMac's headphone output.
As my Office is at the back of the house I use a Home app automation to turn the Nanoleaf light panels Red if the Philips Hue Motion Sensor on my front Porch detects movement. Comes in handy when waiting for parcel deliveries as the drivers sometimes are too eager to leave a missed delivery card.
I recently updated my workstation at home as my old desk was on its last legs (or castors

).
I looked for ready made alternatives before deciding to go all in on IKEA (after watching one too many IKEA Hack videos), primarily because it's range allowed me to tailor a work environment that suits my needs, for a reasonable price.
For those interested I used the following products;
Alex 5 Drawer x 2
Alex 9 Drawer X 1
Malm 3 Drawer Chest x1
Eket Cabinet with door x1
Eket Cabinet (2 compartments) x 2
Eket Cabinet (4 compartments) x 1
Ekby Alex x 1 (Monitor Riser)
Saljan Worktop x 1 (Black marble)
I would be interested to see what other designs members have come up with using IKEA products.
To personalise my Office I have a number of the memorabilia I collect on the walls and shelves (being the only place my wife will let me show them

). @MacSparky may be interested in the one above my iMac.
Anyway this is where I spend probably too much of my time, any questions please ask.