What application did it pop up in? (just for some context)
It looks like a siri contextual suggestion.
You can check the per app siri suggstion settings in:
system preferences -> Siri -> Siri suggestions and Privacy
Turned off Fantastical's share option in Extensions and it doesn't appear now.
It was intermittently appearing anywhere I highlighted text and right-clicked, and interfered with being able to use the normal right click menu.
That is the small menu accessed by clicking the little downward pointing arrow next to selected text in Mojave or Catalina.
Accessing the menu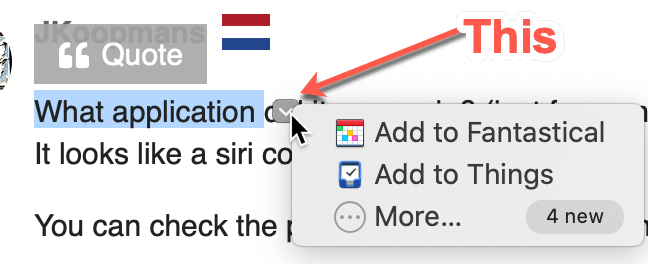 Controlling the menu
The menu is controlled by the "Actions" section of **System Preferences > Extensions"
The Actions can be very useful, but annoying, as discovered above, when accidentally clicked.
How annoying that I accidentally clicked on the dropdown a thousand times without seeing it. Thanks for LMK.