Hello all,
I thought I would find this c/o Google quite easily, but appears not to be a common request:
In Microsoft Word for Mac, v16.49 (part of Office 365), I am writing a fairly technical document, that has plenty of definitions/acronyms being used. [Kindly assume that I need this to be done in a particular way, so do not have control over the style – and my workarounds to make this easier to read for others, are limited.]
One suggestion, that I thought would be simple, would be to add those "tool-tips" to the words requiring explanation, that then appear when hovering over the word in question.
Currently, the only way I can see to add a tooltip, is when it is added to a link. As below, OK only becomes active – when the "ScreenTip text" has been added, after I also add a URL link/email address/cross-link to somewhere else in the document. The latter is not always feasible, since bi-directional becomes tricky.
Does anyone know of a way to add the ScreenTip text without an internal link?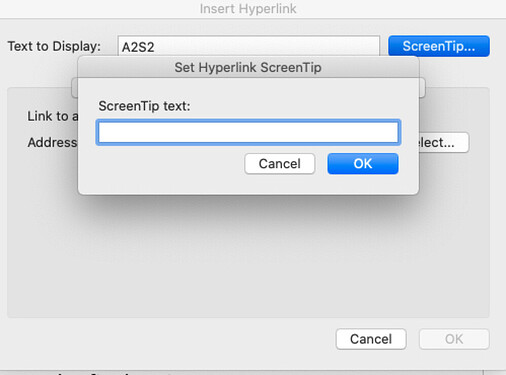 Current result: