And mine is still preparing to ship.



As someone who moved away from the Apple Watch in the last year, I have been reading the reviews with great interest. Outside of battery life, it sounds like it still has a ways to go. Gruber thinks this watch is going to kill Garmin, DC Rainmaker thinks maybe they will in a year or two if they fix the issues. (Gruber doesn't ever talk about exercising, so I am not sure why he feels qualified to make that judgment, other than from an Apple fanboy point of view.)
Good review from a fitness perspective: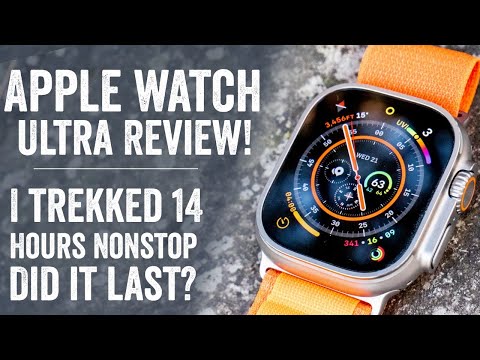 Nice review. Good example of how you can be helpful to all kinds of people if your review has a strong perspective and focus.
I assume his problem with the watch freaking out was perspiration on the screen, or something like that? He mentioned requiring a confirmation step with the action button; I think I'd prefer a mode that treats the screen as though water-locked until the action button is pressed.
Gruber tantalizingly said this in his review of the Apple Watch Ultra:
"It almost feels more like having an adorable little iPhone Nano strapped to my wrist than a huge Apple Watch. If WatchOS were more capable and independent, it really could be more of an iPhone Nano."
For someone like me who has always fantasized about having TRUE all day battery without that need for a mid-day topping off and iPhone independence, this is just about enough to get me to jump onboard.
More likely his jacket. I used an Apple Watch for years running, and things touching the screen has always been an issue. It usually doesn't stop a workout, but you never know what will happen. There is a screen lock now it sounds like, but in his review he sometimes forgot to lock it.
My Garmin has a touch screen, but there is a setting to turn off the touch screen for any workout. So my watch's touch screen is always off on a workout, and I control it with the 5 buttons. The Apple Watch just needs more buttons for sports tracking.
I didn't read his whole review, I skimmed it, but found it a bit strange. Unless you use some of the sports features (he doesn't, I don't believe), this is just the same as any other AW, it just has a bigger battery. On a new AW, with a 30-60 minute workout, I would get 36 hours of battery life anyway. It would gradually get worse of course, but even after a year I almost never had to do a daily top off.
I'd also enjoy a more independent and robust experience on my Watch, although I realize at a certain point it becomes something else (as Gruber says, iPhone Nano territory).
The Ultra appeals to me largely based on battery life and design. My workouts aren't intense enough to need anything beyond the regular model. I'm probably more aware of battery because I have a series 5 and it barely makes it through the day now. Time for an upgrade.
I'm curious how many customers who buy this will actually use it principally because it's more rugged and tuned for more extreme conditions?
My bet is almost no one, but on forums I have seen people buying it just because they want the bigger battery.
I think the bigger question is how many fitness people who use sports watches will switch to AW? Apple marketed it like this is for extreme athletes, but really it's aimed at normal people who use Garmin type devices. Garmin still has models that are more capable, that are cheaper than the AW, and they still have much better features than the AW for fitness. Like DC Rainmaker said, if they fix those issues, Garmin will be in trouble. I know I would love to be able to switch back.
The Apple Watch has always had a screen lock you just flip up the control centre and press the water drop. You can pause a workout with the hardware buttons after you've finished you run (or whatever) or unlock it in time to use the screen controls again.
It's awkward and a pain to use, and you have to remember to lock it. I don't have to mess with locking or unlocking the screen with a Garmin, and it has much better options for pausing/stopping/resuming workouts.
100% agreement. I'm not in the extreme sports enthusiast segment by any means, but I am in the camp that wants true full day battery if I decide to leave my iPhone behind and not needing to worry about a mid-day topping off of battery, dealing with an external battery pack and smart charge cable, etc.
An "iPhone Nano" would greatly appeal to me as a stand-alone product.
I'm ready to try it out!! I think I have a unique use case for this watch, being both a structure and wildland firefighter/paramedic. I also live in an amazing part of the country with a hiking trial every 5 feet. I think I will my use out of it and am hoping to put it through the ringer.
*note…I'm not expecting to wear this watch on the outside of my structure gear. That would not be smart. It would look like the melting clocks painting by the time I was done.



I've been intrigued by the Ultra — I like high-performance tools a lot, which my wife is eager to point out to me every time there's a new high-end shiny. I've been watching the reviews with great interest, but I have to admit I'm a little disappointed from the perspective of a current AW user.
The new screen is larger, but the flat screen lessens the "edge-to-edge" look they had before. This isn't a huge problem, except it looks like the screen doesn't go edge-to-edge anymore, so it appears like there's a black bezel around screen elements.
For those of you receiving your Ultra, I'd be curious how watch faces like Meridian and California (my two favourites) look on the watch.
I had a chance to take the Apple Watch Ultra on a day hike along the Pacific Crest Trail near Mount Ashland. After running the Hiking workout and the backtrack feature for about three hours, it still had more than 65% battery left. The backtrack feature seemed like it would be precise enough to retrace my steps in most circumstances.
You can set Shortuts to enable Water Lock every time you start a workout. Once I found that out, it was more usable (having had a cycle ride end early because of pouring rain and my jacket pausing the ride).
One of the points that changes with the 8 I'd be interested in seeing is the GPS life of the watch without using the phone as the GPS, as apparently with the Series 8, it won't use the phone, even if it's close. I've had good days with the AW where it last for a long day's hike, but I had my phone with me, so I assume it was using both for GPS.
It's easier to just use a watch that has buttons. I had forgotten about the water lock, and I didn't use it often because it was a pain to use, just an extra step when I needed to access the watch during a run. I only used it when out in the rain because of it (which is something I avoided anyway).
On the other hand, I would really like to go back to the AW because it is a far better everyday watch. Maybe next year, because outside of battery life, the Ultra is still not close to a Garmin in the fitness realm. I was going for a run the other day, started the GPS on my Epix and the battery was at 8%. Went for a 50 minute run and when I was done my watch was still at 5%. I am used to that type of thing now.
I don't disagree - for tracking activities, buttons are easier. Cycling during the winter with gloves on is easier. However, as must of my tracking is cycling, perhaps I should go back to the AW and get a bike mounted Garmin!
I've gone away for a week and I've not bothered taking my charger as my Instinct 2 has 13 days battery (47%) left! It does get hard to ignore that.
I have been toying with the Ultra, but I can't justify the price for my current usage levels.
For cycling AW isn't even an option because I have too many sensors (and some are Ant+). Power meter, speed sensor, lights, shifting/Di2, and HR monitor connected.
I'm at 34% after 36 hrs of daily usage. Not doing anything other than tracking my everyday movements. Nothing exciting yet.
Loving my Ultra so far. The battery life has been very impressive. Without workouts, it could easily go two days for me. Even with a 1.5-hour hike the other day and not charging, I still had at least 50%. I like the little bit of freedom the increased battery life is offering, although I suspect I'll still charge it on a relatively frequent basis.
I'm really enjoying the Action Button (I have it set to flashlight) and the overall ruggedness. VERY glad I upgraded from my Series 6.
Has anyone else switched out the band? I wasn't a fan of the Alpine loop band so I have my sports band from my series 6 on my Ultra.