Hi I'm Chad and I'm an Education Minister at a church here in Tennessee. Here's my office setup (also my first post, so be kind)!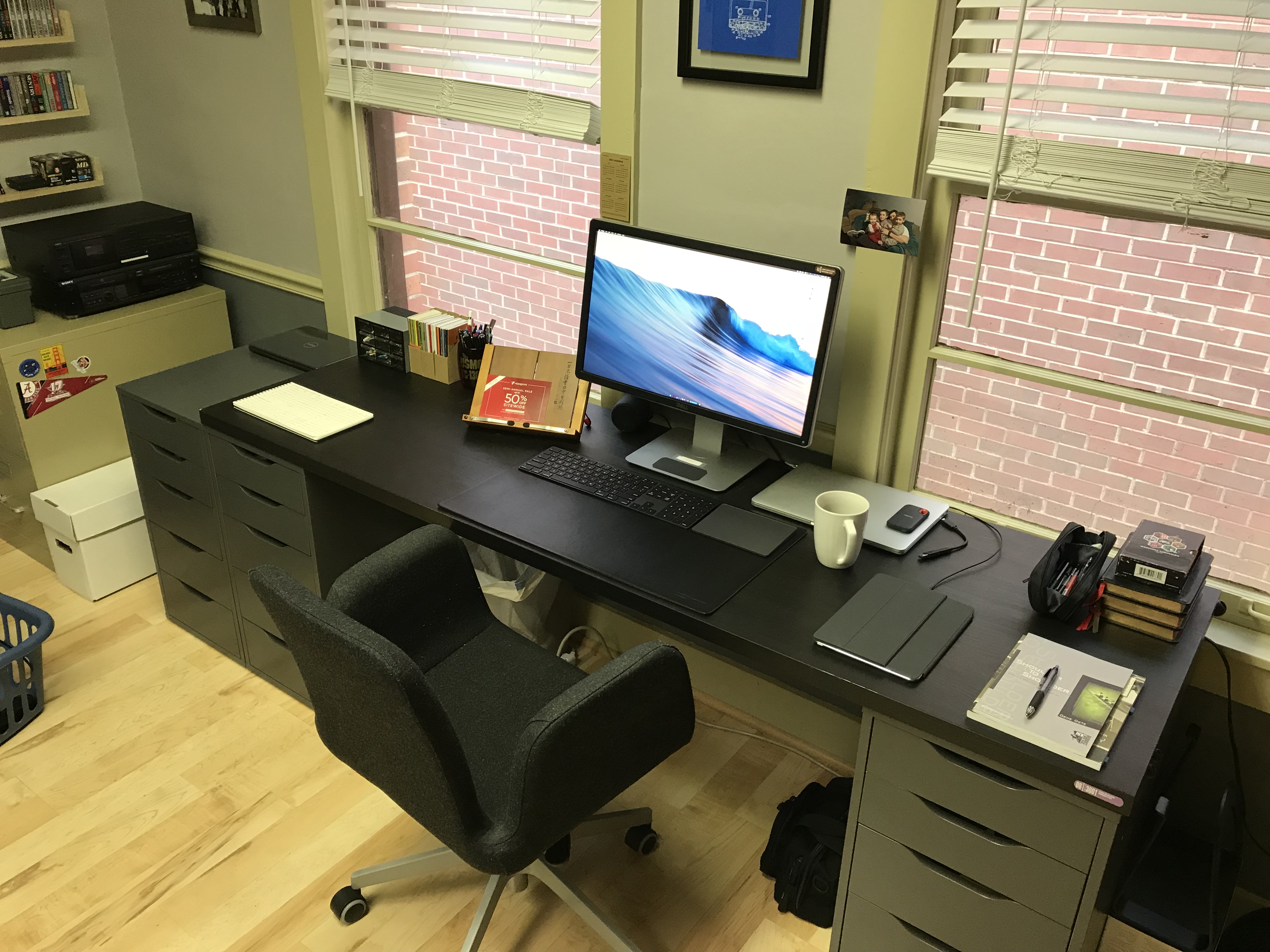 My desk is an Ikea Alex desk in gray drawers and a black top. It's modular so I can move it around in any configuration or position I want. Cheap too, less than $250 for the whole thing.
The centerpiece of my desk is my Dell 4K monitor, hooked via Thunderbolt to my 2015 Macbook Pro. I do lots of graphic and video work for the church here, so the MacBook is specced out to the max. I sprung for the space gray keyboard and trackpad, because, well, space gray.
Most of my work is done from an external SSD, and I have the Sandisk Extreme 1TB for all my Final Cut Pro projects.
For all my work that isn't too technical, I like to use my 9.7 iPad Pro with Magic Keyboard and Apple Pencil.
On the underside of the desk, I have an Anker 5-port USB charger for all of my devices. I run the cables from the back of the desk for a nice clean look.
The book stand to the left of the monitor was a gift many years ago in college from one of our foreign exchange students from China. I have no idea what brand or anything - but I've had it for 15 years and it's a great book stand for my Bible or other books.
To the left of the book stand are my small but growing library of Field Notes notebooks - I still run analog sometimes and love to scribble notes and keep track of other things in the notebooks. The thin cardboard holders were found on Etsy.
To the left of that, I have a small caddy where I keep small objects like my library of SD cards, USB drives, and small tools.
When I need a break, I play one of my retro game systems connected to my 37-inch Samsung, run through a device called the Framemeister (because hooking up old game systems to modern displays is problematic with lag and blurry picture - the Framemeister fixes that). I am a retro game nut, so ask anything you like about that too.
Hope you enjoyed looking at my setup! I welcome any comments and questions. Cheers!