This tip just made using Mail on iOS a lot easier for me.
Method 2: Delete All Emails on iPhone iPad in iOS 11
This a hidden workaround to delete all email in Inbox or Draft on iPhone. In this way, you can easily remove all emails on iPhone to your Trash or Junk folder and delete all of them using the Trash All feature.
Step 1: Go into your "Mail" app > "Inbox" > Click "Edit" button > Select the first email.
Step 2: Now press on the "Move" button with one finger, and while holding the "Move" button, uncheck the message you previously checked.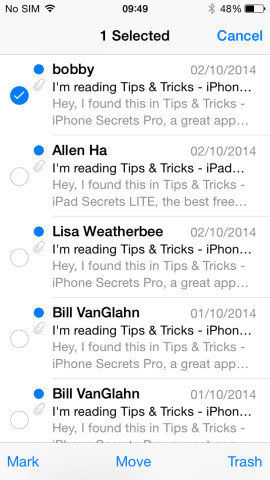 Step 3: WAIT and then you will see a new page, which enables you to move all emails to another folder. Move the emails to Trash or Junk folder.
Step 4: Go into the "Trash" and select "Edit" > "Delete All" in the trash to get rid of all emails in Inbox or other boxes that have no "Trash All".