Some of us are keen on handwritten notes, and GoodNotes is mentioned sometimes as a great app for this (and I agree, it is a great partner for a pencil and iPad workflow), but I know we often wonder about the OCR on handwritten notes. I thought I'd whip up a test document to see how good it is, as I've started keeping some meeting notes by hand in GoodNotes and wondered how searchable the content was.
You can export individual pages from a GoodNotes doc, which is great for meeting notes (when you're on the page, click the share button on the top left then choose "export this page").
Here's how the OCR stacks up - this is the default OCR that GoodNotes seems to apply when you export a page as PDF via iPadOS. For fun I did run an exported PDF through some ABBYY OCR to see if it's any better. The answer is don't do it, it produces gobbledegook. GoodNotes' native function seems best for this.
Top image is different handwriting samples in GoodNotes. The second image is a copy and paste of the recognised text in the PDF of this page, pasted to Apple Notes (that's not important, but I thought I'd say what you're looking at!).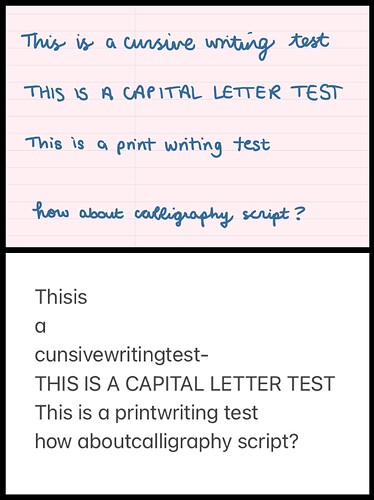 As you can see, the match isn't too bad. Unsurprisingly it struggled the most with an inconsistent cursive script (the first line), but it will pick up a proper cursive script which I'm impressed with (nerd sidenote: many people have strange quirks in their own cursive writing - the informal writing they scribble with during the day - so it's not surprising that OCR could struggle with this. We tend not to follow formal writing rules we were taught when we're in a rush. E.g. because of my dual nationality and dual education I mix the English letter R and the French letter R in my quick handwriting, and I can see that GoodNotes couldn't pick up this variation in the first line).
For me, this OCR suffices. I want to store these PDFs in DevonThink, and I know their search algorithm will be able to pick up enough from the OCR to find my search terms when I'm looking for things. I would probably hesitate before writing handwritten notes that I intend to copy and paste into a document, but then GoodNotes (and other Apple apps that support scribble) can turn handwriting into typed text so if you know that's your end use for handwritten notes you should probably just do that in app anyway.
Anyway I thought this was interesting and wanted to share it with someone, so here you go!
EDITED to add: it makes no difference to the handwriting samples here but just to add for my fellow lefties: I'm left-handed so this is how OCR performs for lefties. For right-handed people, who often have a clearer script, the results should be even better!