This has been mentioned before, but I thought I'd see if there were any fresh ideas out there.
I have an Epson V600 scanner which is fairly new (to me). I can use it to scan documents all day and it works just great. For that, I use Image Capture.
However, when I want to scan slides and negatives, this problem rears its head. The scanner will work for some period of time before this error appears. It can sometimes appear on the very first attempt to preview, or sometimes after many frames of full resolution scans.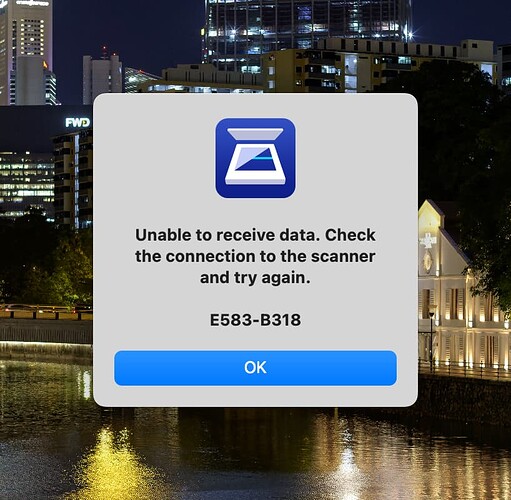 At this point the scanner just sort of "pauses". I think it's waiting for the computer to tell it what to do next, but the computer (or rather software on it) has "lost contact" and will never tell it what to do next.
From multiple sessions of Googling, the "answers" that have worked for other people have been:
Plug it directly into the computer using the cable provided with the scanner (see note below).
Reposition (or in some cases modify) the film holder.
Reload the driver.
Use different software.
Use a (cheap) USB hub.
Note: This is Epson's stated fix. I can't, because the supplied cable is USB-A so something has to come between it and my Thunderbolt 3 MacBook Pro.
The last point was a new one on me, and I have seen it solve a problem with a WD MyPassport Wireless Pro that would not switch to "USB drive" mode when plugged directly into the laptop. It did not work for the scanner.
I had a similar problem years ago with an Intel Mac and on that occasion I installed an "Epson event manager" which supposedly helped with the messaging between the scanner and computer.
I have tried uninstalling and reinstalling ALL Epson software, and VueScan (which uses Epson's driver) and I have tried lots of different cables into lots of ports (on the MacBook Pro, on the TB-connected Studio display, on my OWC USB-C dock, and with a StarTech USB-C travel hub).
In some configurations I have managed to get a decent number of frames scanned before it gives up, but it always gives up. At one point, scanning my Grandfather's slides, I worked out I could quickly quit the Epson Scan software, turn the scanner off and on, then restart Epson scan and hit the go button again (after deselecting the frames I already had) and it would flawlessly scan the frame it crapped out on before.
At this point, my thinking is the issue lies in the data rate over USB and how the M1 affects this. I think this because:
a) I never had this problem persistently with Intel, and
b) Although some people say it "only happens with transparencies" I think the problem is more likely that transparencies are scanned in thousands of dpi where documents are only scanned in hundreds of dpi. I.e. I will never scan a document at more than 600 dpi, but the minimum dpi I will use for transparencies is 2400.
I thought about pressing an old 2009 iMac into service with Linux on it, but discovered (via a Parallels trial) that my scanner is not supported in VueScan's Linux version.

My next thought is to get it on an old Mac OS X and get an older VueScan running on it (or even Epson Scan 2 if it will run) and just not have it connected to the internet (or even my network).
Does anyone else have any experience of dodgy USB on M1 Macs and have any other suggestions than an endless combination of cables, ports, and re-installs?