hi MPUsers
Any recommendations for 2TB external SSD (USB-C)?
Any nightmares?
Thanks all.
Simon
Any quality NVME SSD mated to a solid enclosure like the Anker
I strongly recommend Samsung T7 (2TB) or T5 (1TB) external SSDs. The T7 is currently reduced $100 at Amazon. I have several of each of these. They are sturdy, small, and very reliable.
With my Samsung Tx SSDs I use Lamtoon short USB-C cables to connect the SSDs to my MBP or Thunderbolt hub. These cables have good connectors and seat into the USB port better than the cables included with the Samsungs.
I have a few of the previous model of these. They work well.
My advice is: get something that the whole cable can be detached from (like the two I've posted here), as when the cable is attached to the device, that seems to be a big failure point.
If you have the need for speed, I have a couple of these connected as a RAID0 array, and they've been reliable. They are Thunderbolt though.
Thanks all for excellent advice and recommendations. Am going to think it through.
I love my T5 (2TB). The T7 may be faster but the T5 is way fast already - great for my use.
+1 for the Sabrent Rocket with a good M.2 SSD. Unbeatable in speed and convenience.
if you want heavy duty SSD, you can consider this from SanDisk(WD)
It's size cannot beat Samsung T7 or SanDisk Extreme Portable but it has better heat dissipation and rugged case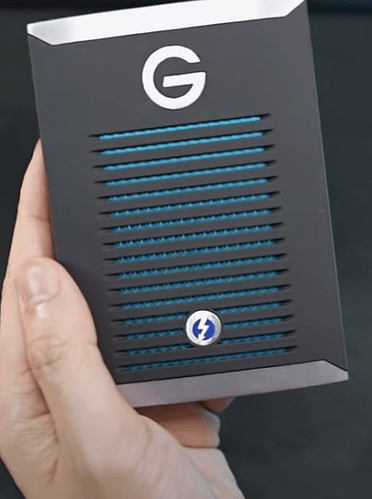 I use the SanDisk Extreme Pro v2 2TB and am satisfied with it. It features an aluminium enclosure which presumably dissipates heat better than the SanDisk Extreme enclosure. It is also slightly heavier than the Extreme.
While it supports 20Gb/s transfer via USB 3.2 Gen 2x2, transfer speed on USB4/TB4 ports on Macs is limited to 10Gb/s.