I know what's on your desk and in your bag.

An Apple.
I wish we had a thread to show off our bags. not whats in them, just the bags.

I love bags.
Honestly David, hearing you talk about your new studio is really interesting, you can talk about it as much as you like. I can't hear enough about it, it is right up our street.
Start one, or I will tomorrow.
I need a bag, but am not even sure where to look. My current bag has been tortured by TSA. It's ancient (2004?) but TSA, not seeing the side zipper, decided I was smuggling something, and cut open the lining.

Why not show off (selected) items from inside the bag as well? Sounds a lot more fun than "I ALSO have one of these four bags we've all seen tons of pictures of" ;p
While checking out the desk setup of @MacSparky I noticed this app that kind of looks like a dock for application window management. Anyone know what this app is? I'm intrigued.
This is sort of a perfectly timed episode for me as I've recently purchased and assembled my first standing desk by the folks over at UPLIFT Desk and am in absolute love with it! This episode has given me plenty of things to consider adding to my new set up.
It looks like Stage Manager, the new feature from macOS Ventura.
I personally love the Tom Bihn Synik 22. I did a 60 second piece on it here, in MacPowerUser style, filmed on my iPhone and edited on my iPad. And yes, the film is in square because I love square.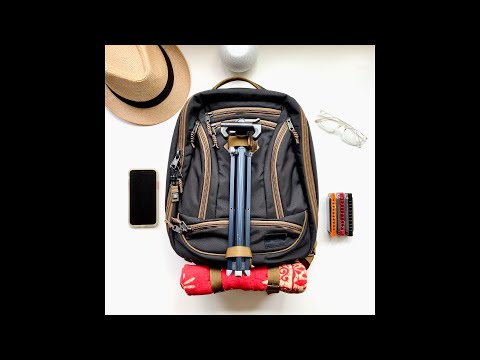 I've also written a piece on it on my website, built entirely in Craft, here:
Since few will likely click my piece, the nutshell version is that this bag is like my home. For 2 years I was an extreme minimalist with everything I owned fitting in it's predecessor, the Synapse 19. That bag was great, but the Synik 22 is perfect. I'm not saying it's perfect for everyone - but as someone who uses the bag as an EDC, for minimal travel, photography and as a travel music studio - they've nailed it. I use it almost everyday and would be lost without it.
Here are some pics, all shot with the iPhone. There are more in the writing if you feel like heading there.
and of course @ismh 's ! either and both as it were!
Nice video and images. I'm a fan of Tom Bihn products as well. The Guide's edition looks really nice.

@MacSparky whats behind the iPad that keeps it from sliding? Anyone else have a good solution? I'm thinking of trying the iPad under the monitor trick
He uses this, which is what I use as well, since his review years ago:
Yeah, the Guide edition has a really nice look with the coyote (sand color) and black mix. Just perfect in my opinion. I've had it for a year, used it like crazy in harsh environments, and it still looks great.
I recently got the Ikea Idåsen motorised sit/stand desk and I really like it.
It doesn't have presets built in. However, there are a bunch of repositories on GitHub that let you programme it via bluetooth. Including one that has an AppleScript dictionary (!!):
DWilliames/idasen-controller-mac: A Mac App to control your Idasen Desk
I have it set up with Sindre Sorhus's Pandan app to force me to move from sitting to standing to kneeling (it goes low enough for this) every 30 minutes.
I wanted to love a Tom Bihn bag but they didn't work for me. I got a Synapse 25, but it dug into my shoulders to the point it was painful.
David, really happy for you that you were able to pull off this workspace, and that it's working even better than you'd hoped!
I'm also a big fan of buying useful stuff from restaurant/foodservice supply. Even simple bussing trays make meals easier, and more ably set outdoors, with neighbors, etc.
My EDC is eBag's Pro Slim Jr Laptop Backpack. Its organization can't be beat, and that structured pocket at the bottom is perfect for carrying cables, adapters, etc. — even the 3rd gen ATV that I take to class so I can use AirPlay with the projector.
I've also used Timbuk2's classic messenger bag, which I like a lot, but I keep going back to the eBags backpack for daily use.
The day one talk made me wonder again, is there a tool to import my Facebook data into Day One? I don't want to use Facebook, but I want some of those memories and data.