I'm pretty sure I need to ignore this episode, it is likely to cost me.
I hear you! The number of links in the show notes alone is terrifying

There is … a lot in there, haha. If it's not a record, it has to be close.
The only gift guide bearing the mark of the beast…
…checks episode number… yep, your soul.
I can't get the eBay suggestion/link out of my head. I mean, why not have a Cube? Excellent reframing.
What fitting number for an episode that might cost more then you are willing to sacrifice

, haha.
It's only a 10,000mAh battery pack though? That seems rather low these days when you can get some that are 30,000mAh for a very reasonable price.
You also have to take into account weight. Sure you can get a bigger one, but maybe you don't want the added weight.
I just bought the Anker 737, it's bigger and I want it more as a backup for my Steam Deck and for charging during power outages. I found this pretty neat review of it that goes really in-depth. He does another review of Apple chargers, which I also found very interesting.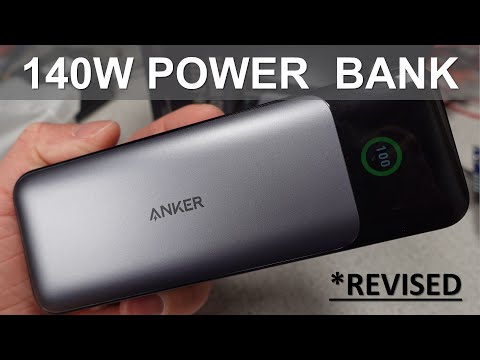 *This is the only forum I post on where I have to think Steam vs Stream Deck.

Care to respond with a link to an example of a product you have in mind?
I like your observation about weight. Take my following comment here not as a rebuttal. I'm simply being open.


While bank size/speed/company is subjective to different needs and situations, I like the handy size of the 733 and that it works both as a reasonably manageable wall-wart - and - as a portable charging bank that I can throw into a backpack or laptop case.
By far, the unsung hero from Elgato is the heavy base.
Just a circular heavy slab of metal that accepts any of the Elgato vertical poles.
I've never found anything like this from anyone else.
If you have a desk where you can't, or won't attach pole clamps over the edge, this is the perfect solution.
I just wish Elgato didn't use proprietary connections on their stuff, but I have found standard grip clamps can be used to attach horizontal arms and other stuff avoiding the high Elgato "tax" for vanilla accessories.
Great episode! I always look forward to this each year.
@ismh I second the short extension cords for travel — life changing! No more stress in the hotel room trying to crawl under/around furniture to find a plug that can work because the bedside plug is too cramped!
David: "We put up a Christmas decorations after Halloween."
Me: Unsubscribes and cancels More Power Users membership.

J/K
Start a side hustle. Get a CPA. Study up on "business expenses"

When @ismh recommended signing up someone for a year of Backblaze it reminded me of something my brother said to me when he gave me my first mobile phone back in 1990. "I know this gift is kind of like giving you a puppy"

(Meaning it was going to cost me from then on)
Yes, me too. I bought one last month for both my wife and myself. It's nice just having one heavy item in my pack rather than two.