Curious What this will do to Apple Music…
Can't find anything else on it?
And nothing on the uk amazon website.
It seems to be limiting the catalogue to shuffle mode. That's still better than free Spotify, though.
I can search, but not play anything… (not a single album shows the tracks)
Interesting - thanks for sharing. I was wondering whether I would renew my Prime subscription and switch to Apple Music… This seems like a good deal for many - especially combined with delivery and Prime Video (which has at least a few things I want to watch). Better than the 'free' option of Spotify at first glance, in that it's ad free. (edit: and unlimited skips).
However, on the flip side, I tend to listen to older music (classical and jazz primarily…) There was a wide range on the 'old' Amazon Prime service. I can now only listen to those albums in shuffle whereas previously albums available from Prime was available in its natural order. It doesn't matter for some of my listening… but I'm not sure Bach's St. Matthew Passion should be shuffled.

Live in the UK…

Interesting, I'm not seeing that?
Listening to Snarky Puppy's latest album… nice for "free".
It's not going to compete with Apple Music, Spotify or even Amazon's own premium music service - there's no way the price of Prime could support it. However, it's a strong competitor to Spotify or YouTube's free services when so many people already have Prime. For casual listeners it's great.
In the UK, Amazon's unlimited service is £2 a month less expensive than Apple's. (£8.99 vs £10.99).
LOL. I think you might be right!
The iOS app has been updated today… ensuring you're on the latest version might help…
Or perhaps it's just waiting until your account has it enabled.
Interesting - can you elaborate how it will not compete with Amazon premium service?
It won't compete in the sense that Spotify's free service also doesn't directly compete with Spotify Premium. The 'free' services are deliberately restricted: people who are into their music and place a significant monthly value on it won't be satisfied with shuffling, a lack of premium sound and no downloads (something else that was available on Prime before).
That's not to say that some people who might have purchased Amazon Music Unlimited/Spotify Premium won't make do with the free offerings of each company, but presumably their research suggests that number is small (and they still make money through subscription retention (Amazon) / ads (Spotify)).
From the linked article:
"[O]ne of the benefits for Amazon Prime members is that you now get access to the entire Amazon Music catalog, about 100 million songs, to play in shuffle mode."
Shuffle mode? It's fine as far as it goes, I guess, but I wouldn't become a Prime member just to get it.
Thanks for the clear response.
They do now, but I still can't play (shuffle) anything.
Whatever album/artists I select, I always get a "Go Unlimited" pop-up which informs me that "This feature is only available with Amazon Music Unlimited.".
Which artists/album can you play? How?
Just got an email updating my Amazon Prime Music benefit to include, among other things, "All-Access Playlists, where you can pick and play any song."
Now the question becomes, how do I find one of these so-called "All-Access Playlists" where I can pick and play any song?

just saw this discussion and went to check Amazon Prime AU.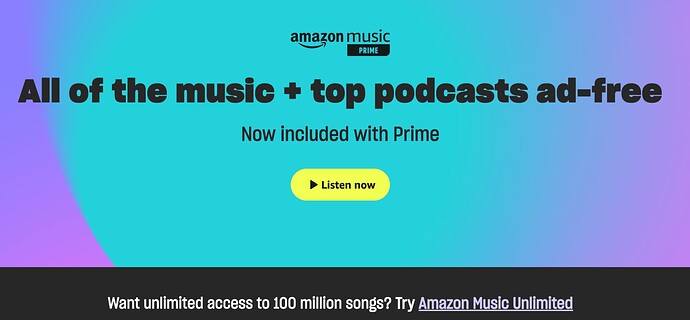 I still do not understand Prime has access to "all of the music + top podcast ad-free", and yet ask us to try unlimited access to 100 million songs, what's the catch?
Anyhow, I shall be struggling if I cannot use Prime Music on Homepod (not using AirPlay ) or Sonos ( I have to check)
I just added Amazon Music to Sonos. I selected the Beatles and tried to play the album Revolver. Here's what it played:
The queue shows the songs from Taylor Swift's Midnights album because that is the last album I played. So it doesn't add the album songs to the queue. I guess it plays songs that are in the same genre as the Beatles. It played a Ringo song from one of his solo albums, so 1/4 of Beatles.

I've only tried using the iOS app and with a couple of albums. In both cases it shuffled the album tracks, but also gave a notice that similar tracks would be shuffled in too.
That wouldn't be surprising… Spotify has a similar strategy, mostly playing the album but not exclusively. That's possibly less of an issue with Amazon if you have unlimited skips.
Edit: Asked the app to play Revolver and I got three of the tracks (shuffled) before I stopped it. No substitutes.

It's the way you access it rather than the amount of music. If you don't mind listening to an artist/album radio station that shuffles tracks and throws in similar stuff from time to time then you're good. To be honest, much of the time for me it's background and it might be good enough. It depends on the shuffling! I've not used it enough to know.
If you want to listen to album tracks in the order you prefer them (and in spacial/HD audio) you'll need to pay!