I'm a bit concerned if Apple still cares about the usability of macOS. There a numerous examples of low usability (sometimes even user-hostile) and low accessibility. Here are a few examples.
Low contrast and unclear input fields
You end up in this screen when you add a custom shortcut for an app. For the Menu Title (1) it's unclear that this is an input field, and it's inconsistent with the input field for Keyboard Shortcut (2). This has some contrast, but the contrast is too low for many people.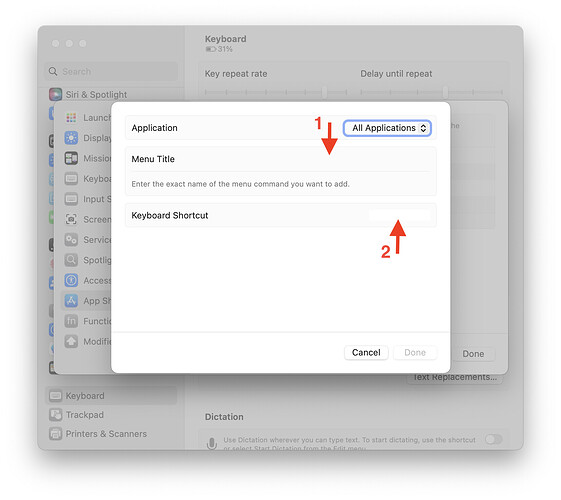 It's hard to find settings
I like that Apple redesigned Settings and made it more consistent with other platforms. What I don't like is that it's hard to find settings.
If you want to adjust sleep settings, you need to enter sleep in the search box. Next, you go to Display energy settings. There you have to guess that you need to go to Advanced…
In Advanced, you can prevent your Mac from sleeping. It says Sleeping, but if you enter Sleeping in the search box, it doesn't show Display energy settings in the search results. That's stupid and the setting is too hard to find (at least for my standards).
Keyboard navigation is turned off by default
You can't tab through dialog boxes by default. To do this, you have to use the keyboard shortcut (fn) + control + F7. A shortcut that isn't easy to find, and I couldn't find it in Settings. As a result, many people will think this isn't possible. This also makes macOS less accessible.
These examples aren't rocket science and things that Windows does better.
I hope Apple alters course with the next release of macOS, but I'm not confident about it as long as Alan Dye is in charge.
I'm curious how others view this.