So…what does it do? Like Guitar Hero without the fun? What's the improvement over YouTube exercises?
Still technically a fall release.

Right before Winter…
Typical Apple…

I'm surprised they remembered us rowers.
Water or gym rower? I did real rowing in school, now just rowing-machine.
Apple features and Apple integration?

I can already put workouts into Health via a dozen apps. I can already track heart rate…
So… what's worth the money? Sorry, don't get it.
Those apps would probably cost you more to buy than to just get Apple Fitness+.
Maybe they aren't selling it to someone like you Lars? I imagine they've done a lot of research and figured out there are millions of customers out there who'd love to pay them more money for this.
Not really. The only one I have a subscription for is Strava, which is cheaper. The benefit: I can match HR/speed. Right now not training with a cadence/power meter, but I will get a new one in spring, supported by Strava. I can track progress on routes, etc.
What about the other dozen apps that could possibly cost you money?
MyFitnessPal (nutrition tracking): Fitness+ doesn't seem to do this, so I wouldn't save money.
Zwift (indoor cycling): stopped using it, but Fitness+ doesn't seem to do this,…
Garmin Connect: replaced it with Strava… Fitness+ doesn't…wouldn't save money…
Concept 2 rowing machine in my sunroom.
1,116,230 meters since June 27, 2020

OK…when the gym is open again…I will catch up!
I'm excited about this. I love the Apple Watch health features. The data, the streaks, the achievements. Looking forward to gaming some more health.
Okay, fair enough.
Gaming certainly doesn't help your health. We aren't living in a video game world!

Obligatory XKCD: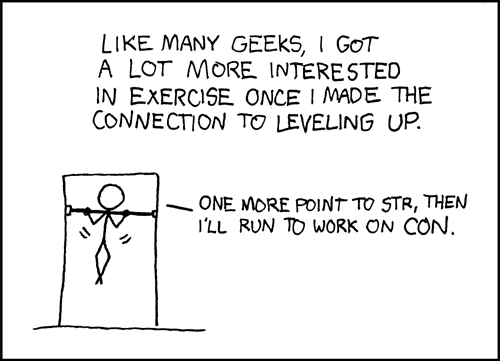 Crap…one less excuse to use for not getting in shape.