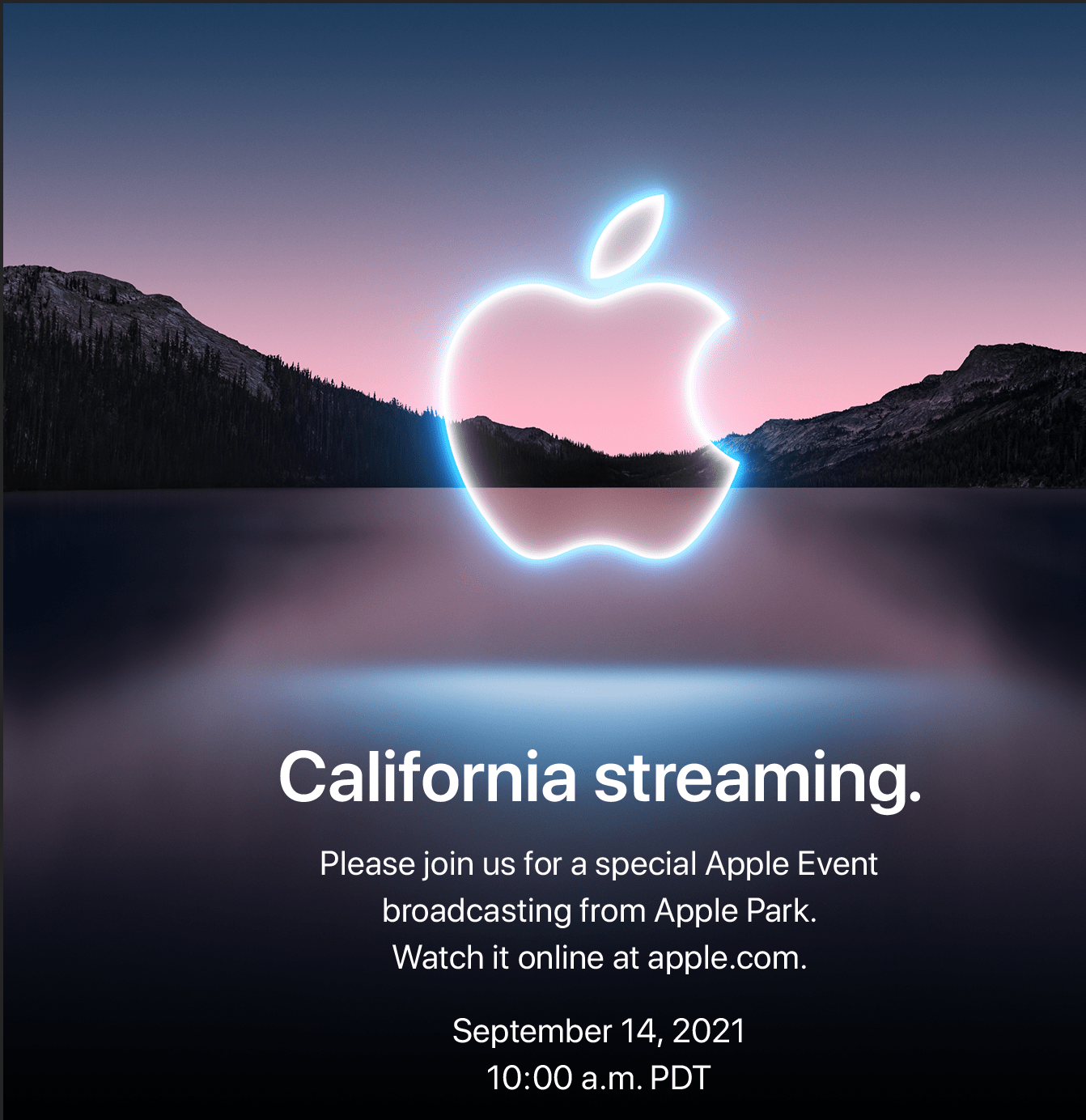 Interesting that the image in the background definitely doesn't look like Monterey.
Hmm, now that I think of it, compared to prior years there's actually been a distinct lack of pictures of Monterey in the marketing for macOS 12.
Probably Monterey when they release new (higher spec) Macs, and those might not be ready yet. This might just be an iPhone/iOS event.
If Apple does reveal new Macs this year, it definitely won't be in September.
So how do we unpack "California Streaming"?
Does it mean the event it streamed? Too pedestrian. Must be something more.
A new streaming service?
New streaming tech?
Maybe the glowing Apple logo means we'll get light-up logos on new macs? Miss that…
California streaming ~ california dreaming? (Song from the Mamas and the papas). Just a playful reference to a streaming event capturing a lot of wishes?
The image looks like dawn over mono lake to me, a glowing new apple icon on top … can it be, it must be … a new, I am sure of it now, it is for sure a <words and image redacted>
I wonder if it means something else?
I don't think we'll be seeing any new Macs at this event.
I'd be surprised if we saw new M1X Macs at this event. I'd wager an October or November announcement for those.
So that leaves iPhone, Apple Watch, and (hopefully) iPad mini?
New streaming service or updated Apple TV+ would be nice!
I wonder if it means that Apple will become an internet service provider?
Then again, that is more likely to happen in my dreams rather than reality…

Here are my thoughts on the event.
More like guesses really!
California = Apple HQ
Streaming = Not a live in-person event
What they announce…
Software - Mac OS, iPhone OS, iPad OS, Watch OS, AppleTV OS (w/Ted Lasso tie-in)
Hardware - iPhones of various flavors (Matte Black as the Special color), Apple Watch Series 7 and new AirPods
Sales figures - the phrase "Record Breaking" will be heard
What they might announce…
Beats headphones
Updated MagSafe Charger for iPhone 12/13
New iPhone case and Apple Watch band colors
What they won't announce…
New computers (November???)
New iPads (maybe next month)
AirPower
What they will also bring up…
Accessibility Features
Environmental Progress
Services (iCloud, Fitness, Apple Music, etc)
Want I want announced…
Mac Mini M1X that is upgradable and looks like a smaller version of the Mac Pro (but no wheels)
Mac mini M1X that looks like a G4 Cube and allows for additional SSD upgrades
Ethernet will be moved to power brick like the iMac and allows for more USB-C/TB ports
Since it's iOS, don't forget "unprecedented" and "economic engine".

And the adjectives "awesome" and "insane" will probably be used!
Lol AirPower being in your "not announced" list.
Yes, as well as "We couldn't be more thrilled/excited/happy….". I'm getting tired of hearing that one over and over and over again…
Looks to me like an AR Apple logo floating there. Maybe they're announcing the new headset?
My guess would be new iPhones and Apple Watches are announced. The software release schedule is firmed up. The final piece might be A/R related? Apple seems to have put a lot of effort into A/R with nothing extraordinary to show for it yet. Is the Apple Logo in the picture a "lens" signaling some new A/R glasses maybe? Guess we will know next Tuesday.
I see the potential of AR but I have no interest in a headset. Normal looking prescription AR glasses? Perhaps.
What he said.
(I couldn't have summed it up better.) I used to look forward to the announcements, not so much so more. Too predictable now. They need some element of craziness running the company like the past.