Continuing the discussion from For people with ADD/ADHD, how do you make task management software work for you?:
I think I visited it several times, and on about the third try, it stuck. Of course during that time, I developed and changed too.
The developer is responsive, spends a lot of time on the NotePlan Discord server. He also hires people with expertise when he needs them. That's so much better than trying to do everything yourself, but doing it badly.
Here are a few templates I'm using with the Templates plugin.
Meeting template - things that took me a while to realize I need to think about related to (most) every meeting.

Project Template - things to think about when creating a project, or considering agreeing to take on a project.

Project Actions Template - lists of next actions related to a project. There is a section for light notes here, but anything extensive would go into a separate note. When actions are completed or cancelled, you can press ⌘⇧A and the tasks will be moved to either the Done or Cancelled section, as appropriate.
I usually have a folder for each project, then have a note created from the Project Template named with a 0: prefix, so it will sort to the top. The note from the Project Actions Template is named with a 1: prefix, so it sorts just below the project note. e.g.
EEG Project
    0: EEG Project
    1: EEG Project Next Actions

Here's what the 1: EEG Project Next Actions note might look like. >today is a special date that causes the task to show up today, which will be every day until it is finished (i.e. every day is today).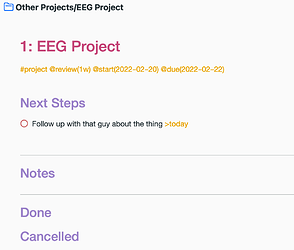 And when I press ⌘T to go to today's note, it looks like this:

You can see I just started taking notes on a video I was watching in today's note, like an animal. I'm becoming okay with this. Sometime later, I'll create a note in an appropriate folder like Statistics and move these notes over. It lowers the friction of actually getting started on things.
I'd be interested in hearing how others are using NotePlan!