Not withstanding my recent lament about a few limitations of Apple's default apps., I'm still surprised by how powerful they are.
A case in point is Apple Notes. I just stumbled upon this video and was surprised to learn about several advanced features in Apple Notes that I had either forgotten about or never knew about.
Here is an excellent, fast paced, comprehensive video from the Paperless Movement showcasing the advanced features of Apple Notes.
I bet you learn something you didn't know.

I did and I use Apple Notes every day.
Below I added the chapter topics and links from the video. Sorry for the poor formatting.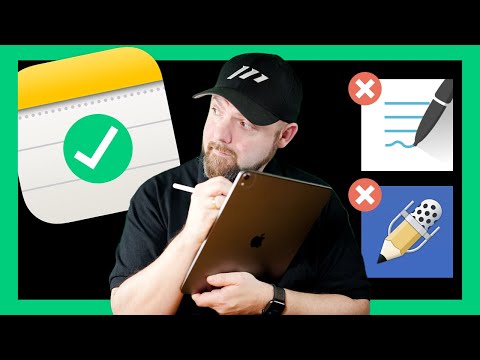 00:00 Intro 00:50 CREATING & FORMATTING NOTES 00:57 How to single tap access your notes 01:44 Sharing websites with Apple Notes 02:23 How to use Quick Notes in Apple Notes 03:02 Use Siri to create new Notes in Apple Notes 03:30 Create Note via Icon and Control Center 04:04 Create Checklists in Apple Notes 04:38 Gestures inside Apple Notes 04:51 Creating Tables in Apple Notes 05:15 Sharing Youtube videos in Apple Notes 05:52 Watch full Apple Notes Course 06:01 HANDWRITTEN NOTE-TAKING IN APPLE NOTES 06:17 How to convert handwriting to text in Apple Notes 06:39 Translate handwritten text in Apple Notes 06:59 Drawing Shapes in Apple Notes 07:43 How to insert space in Apple Notes 07:54 Why Dark Mode is great in Apple Notes 08:17 DOCUMENT SCANNING & MEDIA FILES IN APPLE NOTES 08:27 How to Scan Handwritten Paper Notes into Apple Notes 09:12 How to search handwritten documents in Apple Notes 09:50 How to share documents from Apple Notes 10:01 Using Live Text on videos in Apple Notes 10:52 How to annotate scanned documents in Apple Notes 11:15 Adding sketches to your Macbook using an iPad 11:39 Adding photos to your Macbook using an iPhone 11:57 How to add Voice Memos to Apple Notes 12:27 Drag & Drop files into Apple Notes 12:45 NOTES ORGANIZATION, SEARCH & SHARE 12:48 How to create Hashtags in Apple Notes with Apple Pencil 13:35 Folder and Note organization in Apple Notes 15:31 View ALL Attachments added to Apple Notes 15:54 How to use Smart Folders in Apple Notes 18:16 How to only show notes with unticked Checklist items in Apple Notes 19:39 How to use Apple Notes as your Single Source of Truth 20:36 Using Spotlight to search your Apple Notes 20:49 How to use Apple Notes Widgets 21:42 Is Apple Notes really the best note-taking app 22:24 Find & Replace in Apple Notes 23:27 Final words about Apple Note