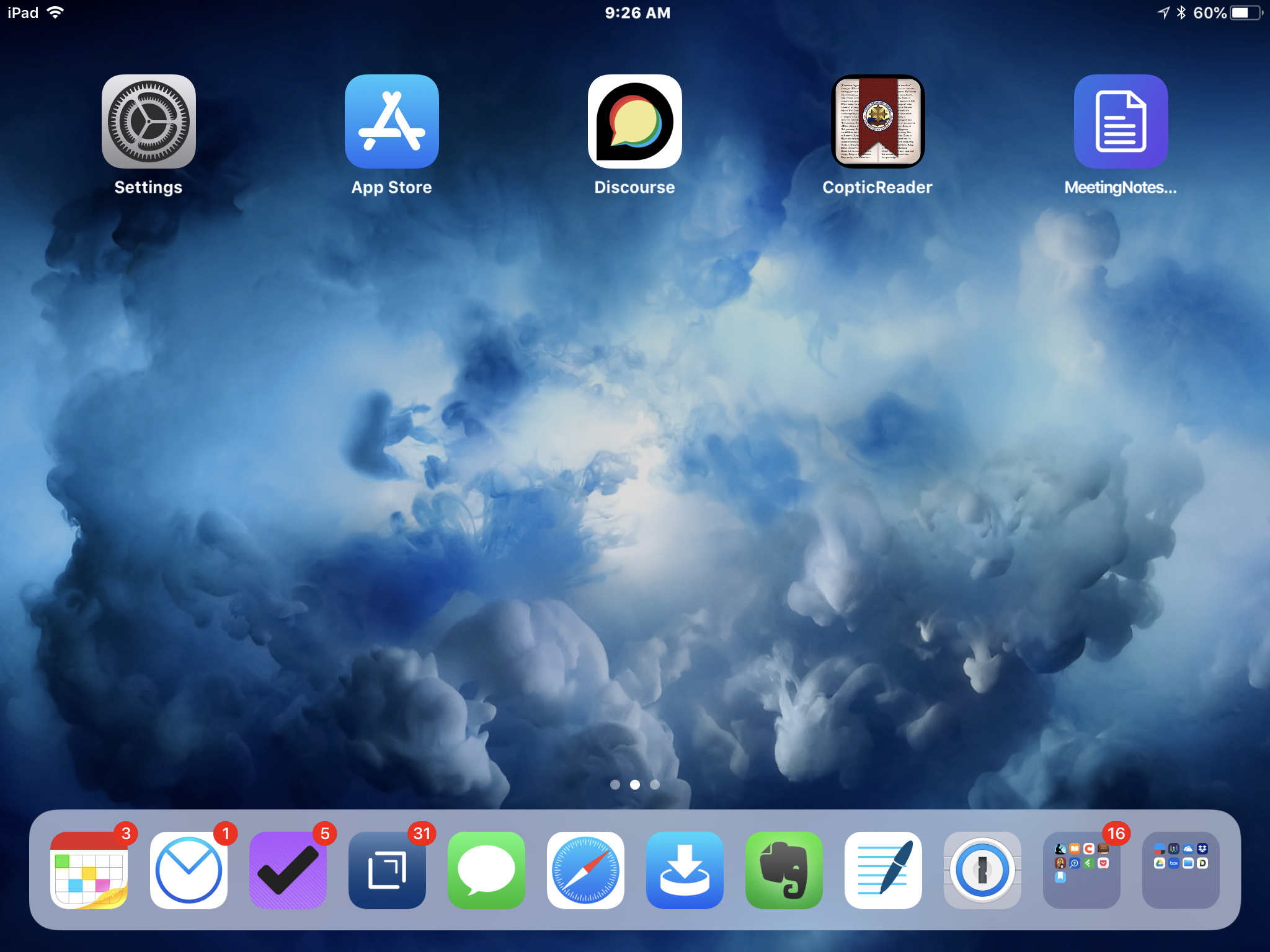 Over the past year under the influence of many bloggers that I follow (@RosemaryOrchard @TabletHabit @MacSparky Federico Viticci on Macstories ) I have been trying to convert from a Macbook Pro workflow to an iPad Pro Only workflow. After the past year, there are a still a handful of tasks that I am not yet comfortable doing on the iPad, or the functionality isn't fully there to my liking yet.
Initially, I used only 3 screens with a maximum of 3 rows per screen. I need everything to be consistent as much as physically possible. Previous setup was first screen had all the daily apps for getting work done, the second screen was entertainment and social media, the third screen was folders by category.
I decided to try the same thing that was mentioned by @MacSparky having the "dock-only" model. Tried it out for a few weeks, but it wasn't fully working, so I subscribe now to a hybrid-model. The main screen only has 1 row, the second screen has 3 rows of folders, and the dock is the most used apps or would be beneficial for split screen.
On my Homescreen
Settings - I access this frequently throughout the day, mainly for BT items.
App Store - I don't like auto-updates, I like to read and see what updates are available, what comes with it, what fixes have been done, and what new apps are trending.
Discourse - Ever since MPU went to Discourse and now Automators, this is front and center for me regularly.
CopticReader - Liturgical Service app that we use in our church. Contains all of our service books, hymnals, readings, etc throughout the year
MeetingNotesWorkflow - Love this workflow from @jayelevy - Best meeting workflow for taking notes quickly, action items, utilizing Drafts and Evernote.
My dock from left to right:
Fantastical - the only calendar app that it suited to my liking with the combined week, list, and month views. Support is always responsive.
Airmail - I regularly jump from email app to email app. With 20 email accounts, Mail.app is not helpful. I tried Newton it was great, but didn't want subscription for it. Spark was also good but missing a few things. Airmail nails it, albeit a few bugs here and there.
OmniFocus - The "real" Siri. Any task that needs more than 5 minutes of my life goes in here.
Drafts 5 - All writing starts here, whether it's a text message, a thought, a journal entry, quote, etc. as you can see by the number, sometimes ends here as well.
iMessage - who doesn't love the blue bubbles and despises the green ones.
Safari - The time waster, browsing the internet.
Yoink - The shelf I am using now, I was initially using Dropped based on a Macstories article, but switched recently to Yoink, much cleaner and useful in my opinion, especially with getting URLs.
Evernote - My digital filing cabinet, I might soon replace this with DEVONThinkPro, but still assessing how that might affect my other workflows that utilize Evernote.
Goodnotes - New note-taking app, based on the feedback from MPU Forums, I am testing this out to replace Penultimate. Especially now that @jayelevy showed me a video of how to transform my writing to text and drag to Evernote.
1 Password - I am the keymaster to this gatekeeper. Without it, all of my digital world would be lost!
Read Folder: This colder contains things that I read from which are Kindle, iBooks, Chunky, Youversion Bible, Orthodox Study Bible, Logos Bible, Feedly, Pocket, and Day One.
Cloud Folder: This folder contains IFTTT, Workflow, OneDrive, Dropbox, Google Drive, Box, Files, Documents by Readdle. Anything that I need to access for whatever I am working on comes through here.
That's a wrap!