I've been experimenting with the new Reminders app.
Now that I have iOS 15 installed on all mobile devices (iPad 2021 M1, iPhone 13 Pro Max) and will on the 2021 MBP M1 when Monterrey is released, I'm continuing my effort to reduce the total number of apps I use and to use default solutions whenever doing so does not negatively affect my productivity.
The addition of Tags and Smart Lists and the ability to attach Apple Notes and Emails directly to a task is working well. The Smart List, and especially the relative date option) is akin (though not as powerful) to OmniFocus's Perspectives. I also like the ability to create Smart lists based on tags and the seamless integration with Siri.
The only thing I miss thus far is the ability to send an email to Things or OF. Instead, I do a drag and drop. It is not as fast but perfectly adequate.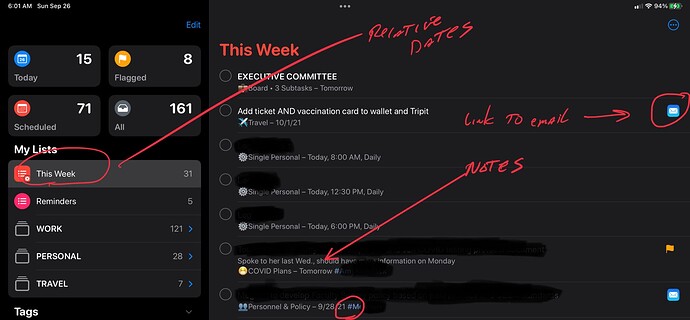 A word about Apple Notes (AN).
I've written several times that I abandoned AN. With iOS 15 I decided to give it another try. The main reason is that I found Obsidian to be clunky to use for taking meeting notes that need reference to key documents. I also need to have tables. Using transclusion, while workable, is clunky and not efficient. Craft is a good solution but I'd rather stick with default apps IF possible.
Obsidian will remain my default app for all writing and research. I'm giving AN another try for meeting and personal notes. If the sync proofs reliable I'll stick with AN. While I don't like the export limitations I can live with it. Craft would be the better option for exporting to plain text but it lacks tables and I don't like writing in a block-based system. AN has the advantage of system integration, the ability to handwrite notes, type notes, Live Text, insert documents, scan documents, checklists, and more. Combined with Apple Mail and Reminders, the three together offer a powerful, though not perfect, productivity suite.
So:
Obsidian for all writing and research
Reminders for task management
Apple Notes for business and personal notes
Apple Mail
Apple Calendar